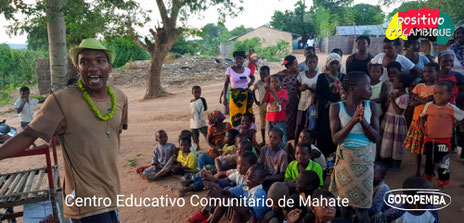 A associação Positivo Moçambique recebe uma parcela de terra, no bairro Mahati, Cidade de Pemba, Província de Cabo Delgado, Moçambique, um espaço para educação comunitária numa das zonas com gente mais pobres do Pais. Estamos de momento a realizar actividades artísticas para angariação de fundos, que irão permitir desenvolver a construção e o funcionamento do centro. Este projecto está sendo levado a cabo desde a nossa antena europeia em Barcelona, a Mozpositivo, dirigida pelo nosso artista Helio Vanimal, a quem podem contactar directamente para doações.
Por favor visitem o website da iniciativa na gotopemba.com
Positivo Moçambique Association receives from private donation a piece of land in Mahati neighborhood, Pemba City, Cabo Delgado Province, Mozambique, a space for community education in one of the areas with the poorest people in the country. We are currently conducting artistic fundraising activities that will enable us to develop the construction and operation of the center. This project is being carried out from our European antenna in Barcelona, Mozpositivo, created by our artist Helio Vanimal, whom you can contact directly for donations.
Please the iniciative's web page at gotopemba.com