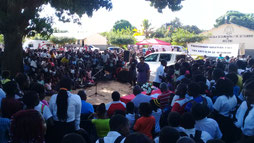 Positivo Team in the Secondary School of Helene, Zavala district, Inhambane province, Mozambique. Theater, Music, Cinema, and a football game between teachers. Our slogan: Healthy Teachers for Quality Education. 
GIZ - Health Focus, Bus of Prevention.
A equipa Positivo na Escola Secundária de Helene, distrito de Zavala, província de Inhambane, Moçambique. Teatro, Música, Cinema, e um jogo de futebol entre os professores. O nosso lema: Professores Saudáveis para uma Educação de Qualidade. 
Financiado pela GIZ - Health Focus,